Our Story So Far
ATF - The Genesis
In October 2018, we set out with a mission to create a platform that would support a robust assistive technology (AT) ecosystem. It has been one amazing journey! Our vision was to create the best assistive technology ecosystem globally, and in our journey, we were joined by 45+ leaders from the business, technology, start-up and disability sectors who have been instrumental and have worked tirelessly to help our entrepreneurs.
Recently, we evolved to continue our mission as AssisTech Foundation (ATF) (www.atflabs.org). The foundation will continue to build our existing programs and initiatives stronger, but also give us more opportunities to strengthen the platform faster, and scale globally.
ATF is positively Impacting lives of 1.75 Lakhs Persons with Disabilities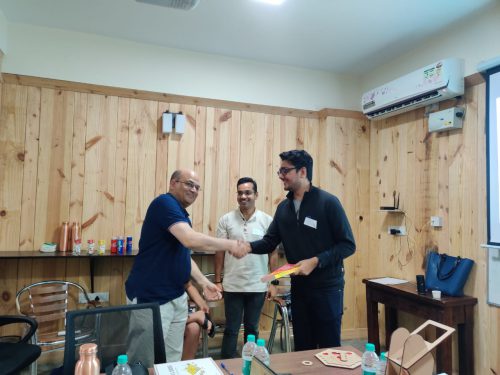 Our charter will include the following:
Create a Global Assistive Technology Alliance with other AT focused organizations in 7 countries – Australia, Kenya, UK, Canada, Ireland, China and New Zealand, equipping the start-ups with a global platform
Launch India's first Assistive Technology Awards that will enhance recognition to the sector and the start-ups that have impacted lives of innumerable disabled persons
Grow our Accelerator Program with new cohorts, help them, and the alumni through continued mentoring, investor, industry access, and resources including customized playbooks
Build Global Assistive Technology Platform (GAP), a Digital Infrastructure, to solve larger disability issues in the areas of 3Ls – Learning, Livelihood and Living through government and private partnerships.
Build more fulfilling partnerships with NGOs, Foundations, Government, Investors, Corporates, and educational institutions
Friends of ATF
The Friends of ATF had our first ever meeting in August. More than 30 leaders who have walked hand in hand with us over the last 20 months spanning corporates, government, technology, disability, academics, CSR, venture funding and the social sector participated in this milestone meeting.
The valuable inputs from such a diverse mentor group left us inspired and a bit overwhelmed. We are honored by your response and interest in supporting assistive technology start-ups. This dialogue was only the first step as we look forward to a long journey that will help us achieve the dream of empowering millions of people with disabilities. We are counting on your support to make this dream a successful reality!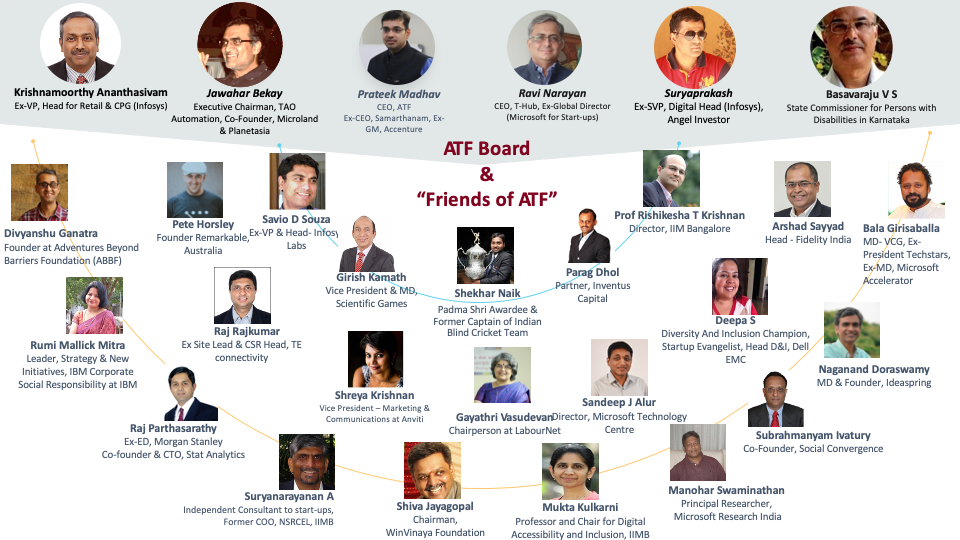 ATF Cohort Program
ATF's Cohort Program introduced a new world of opportunities for assistive technology start-ups. Initiated with the objective of mentoring and supporting innovative assistive technology ideas and companies, the Cohort Program has had 3 successful seasons. It remains our flagship venture and we are very proud of the way it is shaping up.
Cohort 1 & 2
During Cohort 1 & 2, 11 start-ups introduced 35 products in disability technology. This helped positively impact 1.6 lakh people with disabilities with the number expected to reach 10.6 lakhs by 2022. An astounding 560%+ increase. With over 30 mentors across the corporate, business, technology and disability space selecting the best products across visual, speech & hearing, physical & intellectual disability, the Cohort program has the potential to impact diverse areas such as education, employment, rehabilitation, mobility, independent living, communication, awareness, and social Inclusion for people with disabilities.
Cohort 3
ATF's Cohort 3, India's first Start-up Acceleration Program was a smashing success! Nearly 100 aspiring disability start-ups applied for our Cohort 3 program, 41 of which were from tier 1 cities, 47 from the tier 2 & 3 segments. It was more enriching that the applications are diverse in nature, covering all areas of disabilities, impact areas, and are in different stages of their start-up journeys.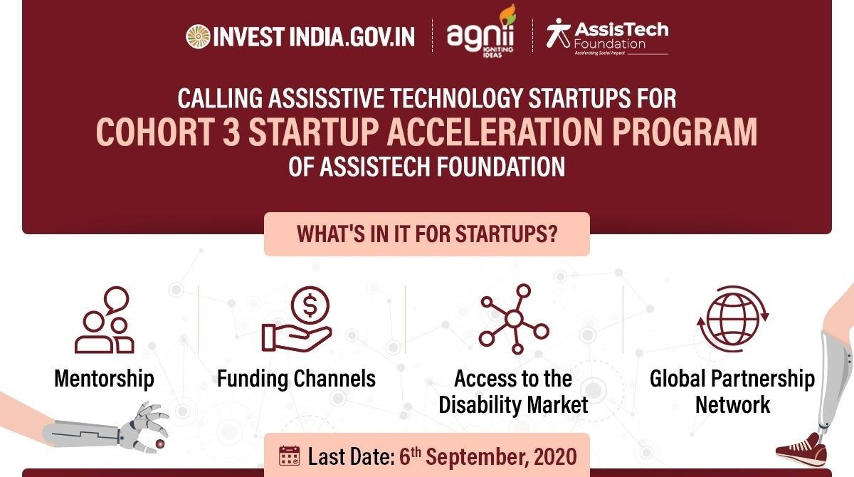 The list of winners are as follows:

Aumeesh Tech is working to build Dynamic Knee Ankle Foot Orthosis (KAFO) – India's first mechanical KAFO to help people with Locomotor Disabilities.

Cogniable has innovated an AI based detection and intervention solutions for Autism Spectrum Disorder all managed remotely through Mobile application

Digital Arts Academy for the Deaf (DAAD) – An Edu-Tech start-up delivering accessible tech education for deaf in India

DeepVision Tech is empowering people with disabilities with AI based innovative solutions. Their Let'sTalkSign solution enables easy two-way communication between deaf, speech & hearing impaired and others

Innaumation helps in bringing back the voice of patients who have lost their voice because of throat cancer

Invention Labs creates assistive technology products that empower and educate people with disabilities

Kickstart Cabs is India's first accessible transportation provider based out of Bangalore.
MyUdaan offers a single epi-center app connecting Technology, Product & Services creating India's first Mobility ecosystem for people with disabilities.

Trestle Labs empowers the Blind and Visual-impaired community towards inclusive education and employment by enabling real-time access to any Printed, Handwritten and Digital content through audio across 12 Indian and multiple international languages.

True Consultancy enables inclusion by making transport accessible to persons with partial/limited/reduced mobility. They offer an award-winning swivel seat mechanism for cars, TurnPlus, which addresses a very important aspect of easy commute.
Our hearty congratulations to all the winners and a warm welcome to the ATF family! We are inspired and impressed by your passion and sincerity. It is noteworthy that this year's winners are diverse and cover more than 12 types of disabilities.
ATF is looking forward to working with all the winners and will work hand in hand with each of them to enable them in harnessing the power of technology to meaningfully impact the lives of people with disabilities.